Jesse helping with the laundry! Jesse lends a helping paw by loading the laundry, and when the laundry is done, he will put the clothes in a basket and carry it. Jesse also shuts the door with his paws between loads!
Movie Night! Jesse puts a movie on, VHS or DVD, and shuts the tray with his nose, or puts the tape in and pushes it into the VHS player. Jesse also pushes the on button, and makes sure to bring the remote so we can enjoy the movie together; cuddled up on the couch. Our favorite movies to watch are dog movies, of course. :)
 ~
Piggyback! One of my absolutely favorite pictures of Jesse and me together~ Jesse is always smiling; his happiness is contagious! He brings me joy every day~
Jesse absolutely loves his Puppuchinos! Ever since Jesse was a puppy, I have been getting him his own whip cream from Starbucks. Jesse gets my whipcream on top of my drink, and his own side too! Even before Puppuchino's were "officially" a thing, Jesse has been getting them from day one with me~
You could say Jesse is a pampered puppy! I love getting him a variety of treats, toys, and beds. Jesse loves these! He comes up to me excitedly when I bring something home for him, and makes sure to sniff the bag happily with his tail wagging. Jesse does this adorable thing where he gives a thank you kiss when I give him his new item :)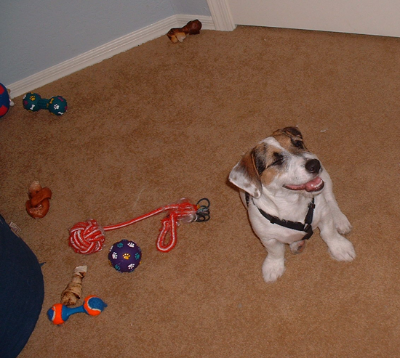 Jesse's favorite place to sleep; curled up next to me on the bed with his head on the pillow~ Since the first day Jesse came home he has slept in our bed. The first night Jesse curled up on my chest, with his head on my neck. ♥♥♥♥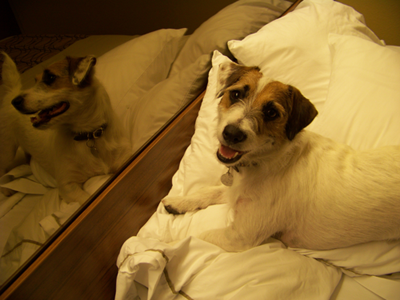 Jesse flying through the Agility hoop! Jesse loves playing agility and excitedly races through the course :) When Jesse was little and before we got any official equipment, I would make Jesse jumps and tunnels out of household items.
Jesse the hand standing Jack Russell Terrier!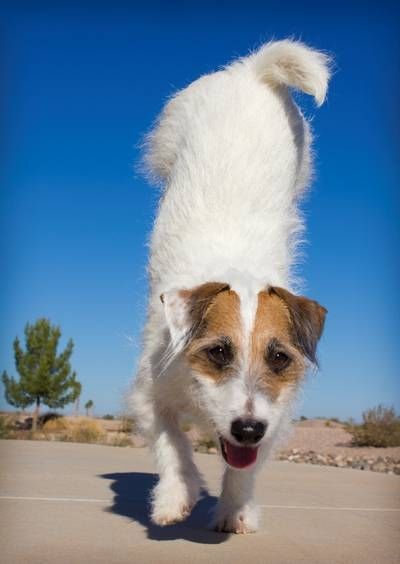 One of Jesse's favorite tricks; the walking hand stand~ This trick took Jesse only a week to learn! We were working on a hand stand at a distance, and Jesse offered the walking hand stand, and the rest is history!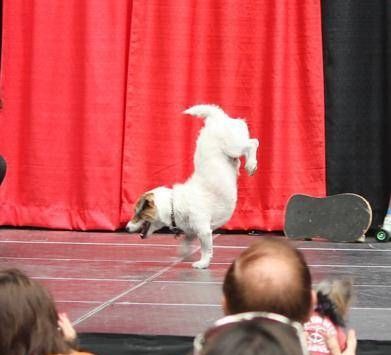 My Best Boy ready for a hike or an adventure! Jesse is such a good boy, and will help carry our necessities in his backpack for whatever trip we go on!
Jesse ready to save his toy from the pool! Jesse has been swimming since he was a puppy. Even though he knows how to swim, he wears a life jacket for safety. Jesse also loves flying off the side of the pool or the rock fountain to rescue his toy. :)
 Jesse's absolutely favorite toy in the world: The Cuz Ball by JW! We affectionatley call him Cuzzie. Jesse knows how to bring Cuzzie from his toy box by name, and also loves playing hide-and-seek with his Cuzzie~
 Jesse is a Mer-Dog! Jesse loves water~ Whether we are playing in a pool, at the beach, or the lake; Jesse is in!~
Jesse is a Sk8er Boy! He is so cute skateboarding; he also knows how to skateboard like a human :)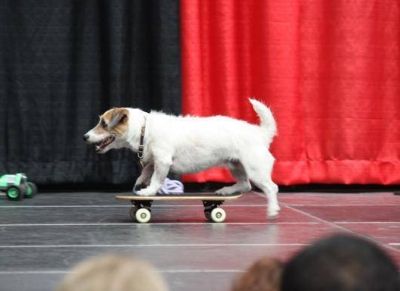 Jesse pushes himself along on the scooter with his little back foot; so cute!
Jesse on set of a commercial. He absolutely loves working and has such an adorable happy smile when he gets to be in his element! He loves all the attention and gives his all for every scene. He is such a good boy! ★★★★★